ETL pipelines are essential because they provide a streamlined approach to data processing, enabling businesses to gain insights into their operations and make informed decisions.
An example of an ETL pipeline is when used by a retail company to extract sales data from a database, transform it into a format suitable for analysis, and load it into a data warehouse for business intelligence purposes.
The pipeline could use a tool like Apache NiFi or Talend to extract the data, transform it using tools like Apache Spark or Python, and load it into a data warehouse like Amazon Redshift or Google BigQuery.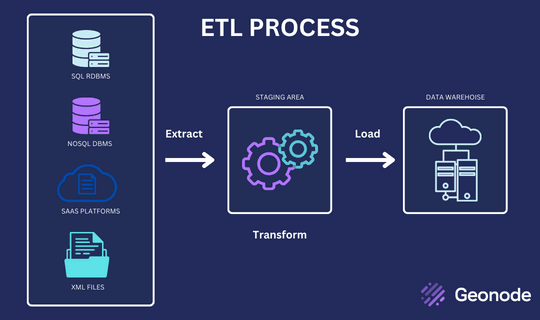 3 The Components of an ETL Pipeline
An ETL pipeline operation has three main components: extraction, transformation, and loading.
Extraction
The extraction phase involves pulling data from various sources, such as databases, cloud storage, APIs, and flat files. The extracted data can be in different formats, such as JSON, CSV, or XML.
Transformation
The transformation phase involves converting the extracted data into a usable format, cleaning it, and enriching it with additional information. This phase involves applying various data processing techniques, such as filtering, aggregating, joining, and sorting.
Loading
The loading phase involves storing the transformed data in a target destination, such as a database, a data warehouse, or a data lake. The loaded data can be used for various purposes, such as reporting, analysis, or machine learning.